In the previous example we hooked up a single LED to our Arduino. But how do we hook up more?
The way to do this is simple: copy the wiring for a single LED as many times as you need, but use a different pin on the Arduino each time so that you can "talk" to each of the LEDs separately. In the previous example we used pin 2, but we could have used any of the pins between 2 and 12, all located on the same side of the Arduino.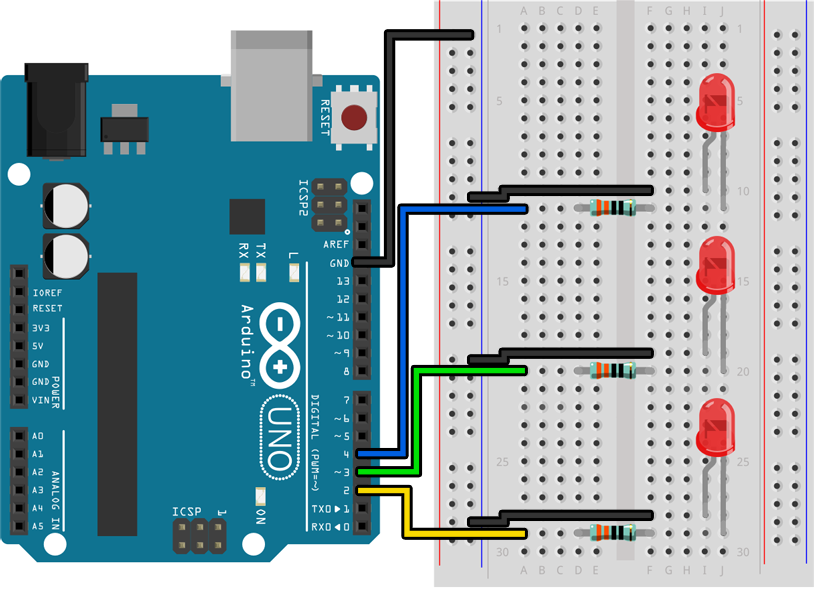 In this example we have hooked up three LEDs to pins 2, 3, and 4. Each LED is hooked up in the same way as before (pin → resistor → LED → GND) except that we have used three different pins so that the LEDs can be turned on and off independently. We have also used the holes on the edge of the breadboard to connect the LEDs back to GND without having to use all three GND connections on the Arduino, two of which are on the other side of the board and are hard to reach.
Before you use digitalWrite() with a new pin, make sure that you turn the pin into an output by including an additional pinMode() line in setup():

void setup()
{
    // Configure pins 2, 3, and 4 as outputs:
    pinMode(2, OUTPUT);
    pinMode(3, OUTPUT);
    pinMode(4, OUTPUT);
}